Description
---
Because auto-create batch custom code (based on the "AutoCreateBatches" sample custom code scripts) adds one or more documents to batches, the automation server executing the custom code requires the same licenses specified in the License Requirements property of the Capture Scan step.
Summary
---
Adding documents to a batch, whether performed in a manual or an automated step, requires any licenses required in the Capture Scan step.
Follow these steps to identify the license requirements for the Capture Scan step:
Open the PaperVision Capture Administration Console and go to the entity in which the job was created.
Select Capture Jobs and open the auto-create batch job.
Select the Capture Scan step. In the General Properties, refer to the property License Requirements. This property lists the licenses required for the Capture Step.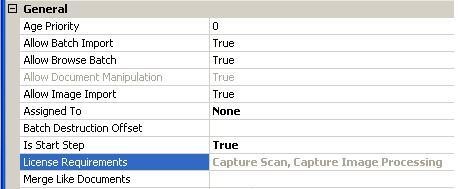 If you have multiple automation server instances running the Process Batch automation task, then each of these instances will need the licenses in order to process batches through the auto-create custom code. If you are using concurrent licenses, make sure you have enough for each server instance. If you are using named licenses, you must assign the licenses required specifically to each server instance as described under the Global Administration – Licensing section of the PaperVision Capture Administration Guide.