Description
---
When attempting to view the PaperVision Enterprise web page Default.aspx, being hosted on a Windows 2003 Server, you receive the following error:
Server Error in '/' Applicaton.   Configuration Error.   Description: An error occurred during the processing of a configuration file required to service this request. Please review the specific error details below and modify your configuration file appropriately.
Parser Error Message: Unrecognized attribute 'xmlns'.
Example of error: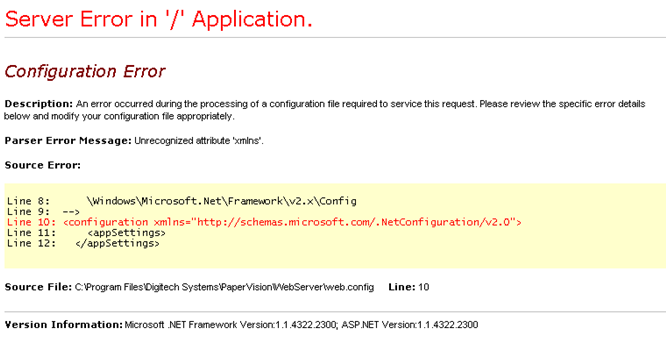 Summary
---
This error is caused by an incorrect setting in Internet Information Services (IIS).
To resolve this follow these steps:
Launch Internet Information Services
Right click and select the properties of the PaperVision Website
Select the ASP.NET tab
Change the ASP.NET version to 2.0.50727