Description
---
When accessing https://login.imagesilo.com the Entity ID field is not displayed.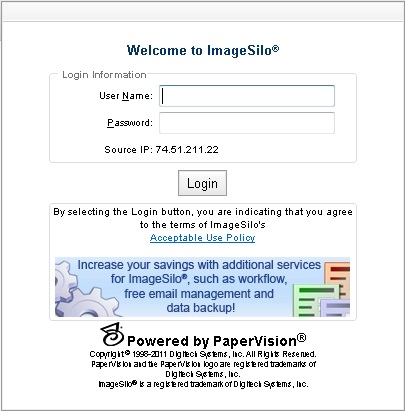 Summary
---
This happens when a user logs in to any entity, expands System Settings, selects User Options, and then enables the Hide Entity ID option located on the Display Settings tab.
To re-enable the Entity ID field, delete the browsing history for ImageSilo:
Launch Internet Explorer, select Tools from the menu, and then Internet options.
From the General tab, under Browsing history, click the Delete button.
The Delete Browsing History window is displayed; ensure the Preserve Favorites website data option is not enabled (checked). The other options displayed in this window should be enabled (checked).
Click the Delete button located at the bottom of the window.
Once Internet Explorer has finished deleting the selected browsing history, click OK to close the Internet Options window.
Close the Internet Explorer browser.
Launch Internet Explorer and browse to https://login.imagesilo.com – the Entity ID field is now displayed.